Merchant Accounts
A merchant account will allow your business to accept credit cards over the net.

It is almost mandatory for E-Tailers to accept credit cards.
Because it's fast, easy, convenient and secure for both parties, the client and the merchant.

Merchant accounts from E-Tailers (Internet Merchants) are different from merchant accounts
of traditional retailers at a brick and mortar store.
Due to the higher risk for "card not present" transactions, the discount fees are slightly higher,
and your application needs special approval.

Today the Internet offers the most efficient and effective channel of conducting business
with customers around the globe and around-the-clock. As more and more individuals
and businesses start buying and selling products and services over the Internet,
e-commerce sales will show a blistering growth in the coming years.
With real time credit card processing, you will know instantly if you get your money for the product your client just purchased. You can close the sale immediately. No more wondering if the check is in the mail. And once received, you don't have to wait one week to see if the check is returned unpaid NSF to you or something else.
This should increase your profits 30-50% or more. The sky is the limit ;-)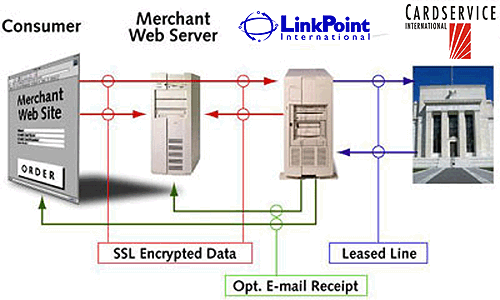 To ensure that your business gets a piece of the pie, we have partnered with Cardservices International to help enhance your business by providing you secure, real-time credit card processing capabilities through LinkPoint, one of the most scalable, reliable and end-to-end business solutions for e-commerce. LinkPoint converts the benefits of selling online into "cash", by providing merchants a powerful Internet based software that offers a secure, cost-efficient and reliable method of processing transactions and collecting payments in real-time. Depending on your needs, you can choose from 3 Secure Virtual Terminal Payment Gateway options to accept and process transactions:
The LinkPoint Virtual Terminal makes credit card authorization and transaction management fast and easy, and with our special pricing, really affordable.
Cardservice International is a leading transaction service provider, building on more than a decade of excellence. The company serves over 200,000 businesses in both the traditional and Internet marketplaces. They process more than 125 million transactions each year and an annual credit card/debit card volume of more than $12 billion.
Increase potential sales
98% of new accounts are approved
approval within two business days (48 hours) on most applications (with monthly volumes of or less than $30,000)
Discount Program For Spunkyworld Clients
Setup Fee

Waived

Annual Fee

Waived

Application Fee
If you are not able to get an approval, we will refund the application fee.

$ 109.00

Discount Rate (Visa/MasterCard)

2.47%

Discount Rate (Discover) +$25 one time setup fee

2.47%

Discount Rate (American Express)

3.50%

Monthly Minimum

$ 15.00

Transaction Fee

$ 0.25 + $ 0.05 AVS

Monthly Gateway Fee

$ 15.00

Monthly Customer Support Fee

$ 5.00
All fees, except the application fee, are collected by Cardservice International directly.
| | |
| --- | --- |
| | Collected by Spunkyworld.com |
| | Collected by Cardservice International |
The ability to accept credit cards can double or even triple your business.
In order to take advantage of the rate table shown above, you have to apply through a hidden application URL!
This URL is password protected and you have to purchase a login/password combination from us to gain access to the hidden URL.
It is a special Sign-up wizard and simple to use. You can complete and submit your application online in mere minutes.
No need to sign and send any paperwork!! You can complete everything online!
Take the first step to increase your sales

Sign Up Now!
Note: You must have a U.S. business address, a Federal Tax ID and a U.S. bank account to apply for a merchant account.
If you don't qualify, because you are outside the U.S., please e-mail us and we will tell you how you can obtain merchant status to accept credit cards nevertheless.
- Last modified on 11/21/2005 -